So long as you have food in your mouth you have solved all questions for the time being.

Franz Kafka
I'm a bit of a foodie, largely in part with the fact I'm the child of a chef who had a food blogger roommate, so I'm not one to say no to an amazing dining opportunity. There's one caveat, though: ya girl is broke.
Copenhagen is a notoriously expensive city (it's just as bad as London or Paris). However, I'm crazy lucky that my homestay family are just as epicurean as I am, and even more frugal than I. I have at least two meals a day taken care of from them (all three if we have leftovers) and I'm pretty sure that's the sole reason I can still travel.
Here's the list (in no particular order) of cheap eats I've found that have kept me from starving on many a day in Copenhagen when I forgot to pack my lunch. Good luck and enjoy to all you budget gourmands out there.
Located In: Indre By
Dalle Valle
Dalle Valle is a buffet, though it should be noted that you should not associate that word with its American connotations (side eye intended, Golden Corral). An unlimited brunch buffet is 89 kr (just under 15 USD), and believe me, it is mad decent. A friend and I made this our go-to hungover brunch destination because you can eat your fill and easily lament over how much you spent the night previously.
Also, it should be mentioned that the location in Indre By is prime for people-watching. In terms of tips for this place, I don't condone slyly bringing in your own Tupperware to fill under the table with delicious food so you can have all your meals taken care of for the next few days, but I'm not your mom. Do as you will.
Onsdagssneglen @ Sankt Petri's Bageri
This place is quintessentially Copenhagen. Every Wednesday they make Onsdagssneglen, which are the most glorious cinnamon rolls you will ever have the honor of putting in your mouth. All of their baked goods are super fresh and reasonably priced. It's not hard to imagine why I may put on a few pounds considering this is a two minute walk from my school.
Next Door Cafe

This place is one of my newer favorites. Cozy and quaint, they offer cheap breakfast, lunch, snack and coffee options. Though you can enjoy here alone, it very much has the vibe of the place you and all your friends spend hours in talking about life over a cup of heavenly coffee and fresh-baked cookies. Besides, they have awesome stickers. I can't say no to stickers.
Grød
Okay, I admit it: this one's not that cheap in terms of cheap eats. A bowl of their all-in oatmeal will set you back 75 kroner (or about 12.50 USD). However, it is life-giving. I was actually excited for this oatmeal porridge restaurant before even stepping foot in Copenhagen. Very much inspired by the Nordic Food Manifesto, they source everything organically, locally and seasonally. There's something about how horrific the weather is here that makes me mad for this stuff.
My tip: the one in Torvehallerne (The Glass Market) is always packed. For a more low-key time check out their location in Nørrebro. Also, anyone who buys me their poster or cookbook will have my firstborn named after them.
Located in: Vesterbro
Absalon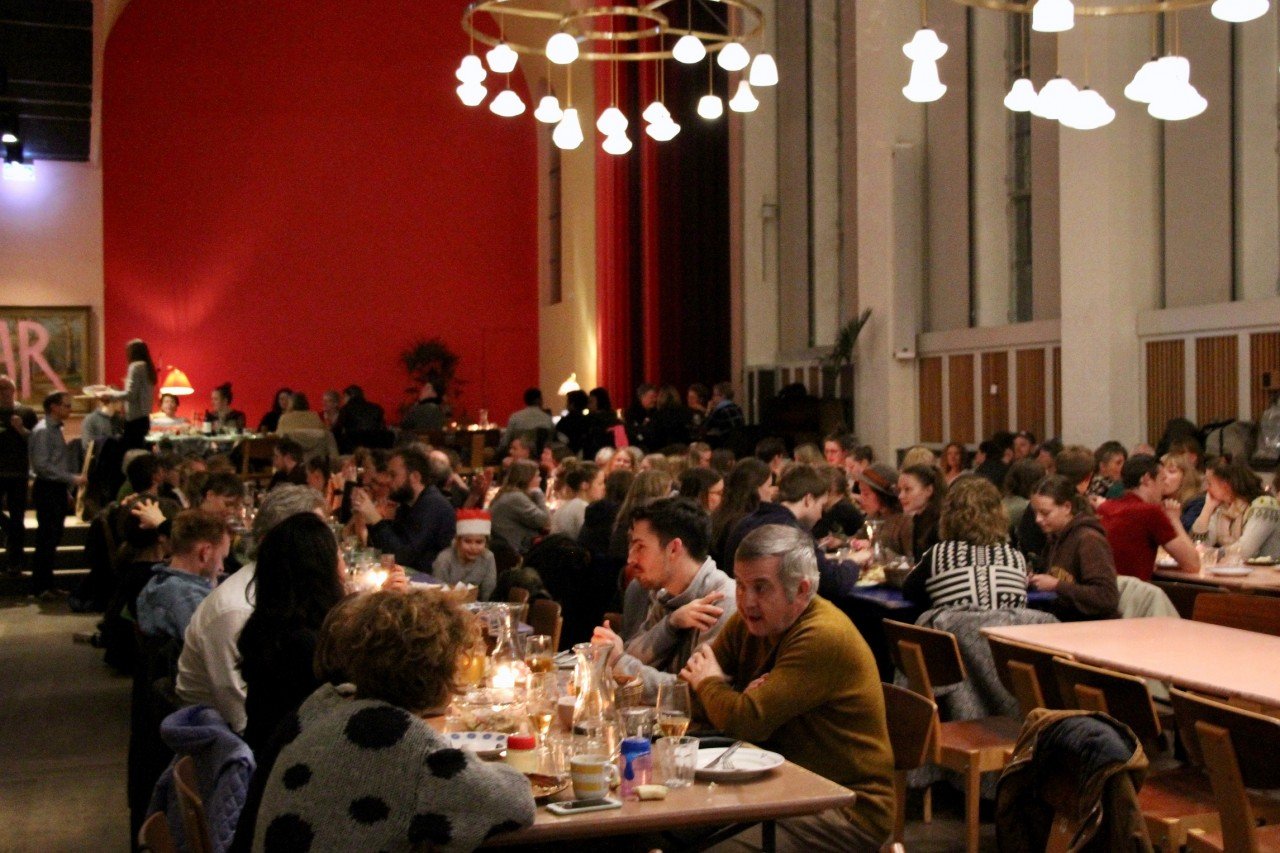 At 6pm every evening (or if you're super cultured, 18:00), Absalon serves a communal dinner for only 50 kr (8 USD). There isn't a menu per se, but this soup kitchen-styled venue has something new to offer every evening. Plenty of my friends flock to this place for studying during the day as well as a filling dinner.
Pro tip: Don't limit yourself to food here. They offer everything from backgammon to swing dancing to afropunk dance parties to mommy and me yoga. They have a little bit of everything for everyone!
Located: Everywhere
Pølser
These quaint little hot dog stands (pølser means hot dogs in Danish) dot the entirety of Copenhagen, and you will see locals stopping just as often to grab a bite as a tourist wandering along Strøget. They're perfect for when you can't be bothered to sit down and eat, and I recommend holding onto coins if not for the sole reason of being able to pay for a heavenly hot dog like you're a street urchin from the 1940s.
My tip: the best ones are directly to the left of Rundetaarn (the Round Tower) and smack dab in the center of Gammeltorv.
7/11
I bet you didn't see this one coming! This isn't the American Kwik-E-Mart (which we oddly have in Copenhagen). This place might actually be the love of my life when it comes to cheap eats.
Whoever did their advertising and Danish branding deserves some type of award. Most of the pre-packaged food they offer is healthy, if not organic, and packed with nutrients. They seriously offer quinoa salads and beet salads and juices and yogurt and other stuff that I crave when my liver is failing me.
If you're not feeling that whole living until you're 90 thing, they have entire walls of Danish candy, the best soda and energy drinks ever and pre-made pølser, doughnuts and various other goodies for us heathens out past one am.
Shawarma

To be fair, I can only remember eating Danish Shawarma once, though my credit card statements beg to differ. Shawarma is there for you when your man isn't. When you're cold and wet from a dark Danish evening. When you're crying drunk in the streets because you're hangry.
There was a massive Turkish immigration to Denmark in the 70s, and they have the restaurants to prove it. The best ones can be found in Nørrebro, but literally all of them are magical (even more so the closer you get to 4 am). Many are open almost every hour of the day. Do not shun them, they are the best part of a night out.
That's all I can think of for now! Where are your fave restaurants that I missed in Copenhagen?
Hej Hej!
Phrase of the week:
Hvad er din yndlings-restaurant?
(Vehl air deen oohn-leengs rest-ow-raunt)
Meaning "what is your favorite restaurant," it's an awesome phrase to ask a Danish acquaintance, shopkeeper or concierge. Don't ask a random Dane, though. They're a bit frigid.
*I'm just going to say it here: I am not sponsored by anyone (though if anybody I've mentioned here wants to sponsor me help a sister out). All of these opinions are my own and I have no WordPress lobby firm using me like a puppet. Also, please don't sue me. That doesn't sound fun.